Not all ad platforms are created equal. In this article, we'll take a look at maximizing your ad spend and reach using the MANTIS platform specifically. We'll do our best to cover everything from the basic definitions of CPC and CPM and vCPM to exploring the various use-cases for bidding for CPC vs vCPM inventory access on the MANTIS ad network. Finally, we'll review how you can use your campaign CTR% to make informed marketing/budgeting decisions that can save your business large sums of money in the long run.
Definitions
CPC (Cost per click) –  The term CPC refers to the amount an advertiser pays to send a user to their website/landing page after clicking their creative.
CPM (Cost per 1,000 impressions) – The term CPM refers to the amount an advertiser pays when their creatives are served 1,000 times disregarding the view-ability of those ads.
vCPM (Cost per 1,000 viewable impressions) – The term vCPM refers to the amount an advertiser pays when more than 50% of their creatives are tracked as viewed by 1,000 people for longer than 1 second for display ads and 2 seconds for video ads.
When to consider bidding for CPC ad inventory
You are risk averse: If your marketing budget is limited, you may be more focused on obtaining customers at a set fee known as a cost-per-lead (CPL). In this case, you will likely be less focused on how many eyeballs see your ads; you are more concerned with keeping your marketing costs as low as possible to obtain conversions at a cost you can afford. You can only justify paying for people to actually hit your website. If this sounds like a situation you find yourself in, cost per click (CPC) ads may be right for you as you'll only be charged when a user clicks on your creative to go to your desired landing page.
You are OK with a slower campaign pace: All MANTIS advertisers are required to bid for access to CPC inventory, resulting in a highly competitive environment. Because of this, advertisers that opt to exclude vCPM bids from their campaign [i.e., advertisers that only bid for CPC ads] will have a much slower pace than another advertiser bidding for access to both vCPM and CPC ad inventory.
When to consider bidding for CPM/CPMv ad inventory
Your campaign has a high CTR%: At this point, you may be thinking, "Should I be paying for CPC or vCPM ads… I'm still not certain?" The simplified answer is that the decision to bid for vCPM ad inventory should come down to two factors, at least when using data available to you:
What is your campaign click-through rate (CTR%)?
What is the network's vCPM rate? 
The click-through rate of the campaign is the main factor you can control as the advertiser,  and it is a very important metric to monitor and get familiar with when planning to run an impression-based (CPM or vCPM) campaign. Because both CPM and vCPM ads are priced on the number of impressions generated and not the amount of people who click an ad, it is vitally important for advertisers to optimize their campaign creatives to maximize CTR%.
You want maximum exposure: In some cases, you may find yourself in a position where your priority is to establish yourself as a market leader. Your company is most interested in driving awareness / building brand recognition; you are less concerned with selling an actual product or service at this time, you simply want as much publicity as possible in a pre-determined time frame without breaking the bank.
You want to dominate a specific market: Instead of being laid back and OK with your competitors winning bids for the same ad inventory as your company wants, let's assume that you are willing to pay to play. In this case, you would want to pay for access to both CPC and vCPM ad inventory, making it expensive for your competitors to win access to said inventory.
You are running geo-targeted / time-sensitive campaigns: Bidding for vCPM inventory access is especially important for geo-targeted campaigns that are targeted to highly competitive yet hard to access markets like San Francisco, Denver, and Seattle. Additionally, if you are running a time-sensitive campaign that has a limited run time (e.g., holiday promotions, industry events w/ limited tickets, etc.), you'll certainly want to consider boosting your campaign to ensure your marketing budget is spent in the allocated timeframe as CPC rotation on its own may not be sufficient.
You want to speed up the pace of your MANTIS campaign: By bidding for access to vCPM inventory on services like MANTIS, your campaign instantly receives priority inventory access over all CPC ad campaigns on the network, boosting the pace of your campaign dramatically. However, if you are happy with the pace of your CPC campaign and the avg. CTR% does not justify bidding for access to vCPM inventory, then you should stick to CPC only and avoid bidding for vCPM inventory access.
Using your campaign CTR% to make budgeting decisions
To showcase the importance of understanding your campaign's CTR% and its impact on your overall cost per lead, let's briefly dive into the math behind making the decision to boost your campaign by paying for access to vCPM inventory on MANTIS.
Let's assume your company is currently bidding $1/click for access to CPC inventory on MANTIS and your campaign has an average click-thru-rating (CTR) of ~1%. You are happy with the conversions you are seeing on your side… you simply want to reach more people without breaking the bank.
To accomplish this, you are considering boosting your campaign and you're prepared to bid for access to premium vCPM ad placements. Let's consider the following example to see if it makes sense to bid for vCPM inventory in addition to CPC inventory:
Avg. CTR% of campaign: 1%
Campaign budget: $1,000
CPC: $1/click
Max vCPM bid: $5
If this was the case, your company could expect to reach ~200,000 people ($1,000 budget / $5 vCPM = $200 * 1000 impressions). Of the 200,000 users reached on MANTIS, ~2,000 people would be sent to your desired landing page based on an avg. CTR of 1%.
Now, what's really interesting is when we compare that same $1,000 ad budget allocated on a CPC rotation at a $1/click bid price. At this price, you would only yield ~1,000 guaranteed clicks, roughly half of the potential customers as the vCPM ad campaign with the same CTR%.
In other words, your company would certainly want to bid for as much vCPM inventory access as possible, as long as it is priced at a $5 vCPM and your campaign CTR stays in the 1% range. You can run the numbers using your own average CTR% via the "Reporting" tab in your MANTIS dashboard (as shown below) to determine which ad rotation makes the most sense for you.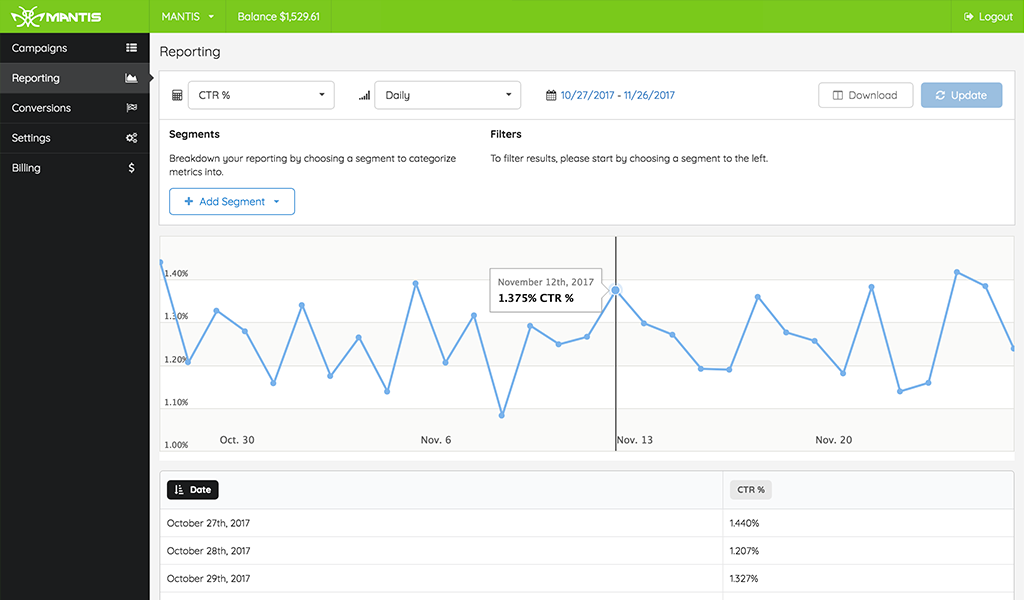 Note: As a general rule of thumb, the higher your campaign CTR%, the more you should consider bidding on a CPM / vCPM basis. If you aren't seeing a CTR% greater than .5%, it may signal that your creatives/messaging needs more testing until you find a marketing mix that gets a better reaction from users.
---
Ready to find and retain more customers? Advertise today