Tap into the most optimized supply path available
.
Save 33%* by avoiding intermediary fees imposed by other ad platforms
Mantis DSP is not off-the-shelf software. We're also not just another reseller of the same traffic sources you can get access to via other DSPs. Instead, we built our own end-to-end solution and work directly with quality publications to cut out all of the fees from intermediaries. Because of this, our advertising partners get more transparency and ultimately, more value.
See what makes us different
*Source: eMarketer, July 2019
Our proprietary 0% fee ecosystem
Launch display, mobile, native, video, and retargeted ad campaigns
Set up strategic advertising campaigns in minutes and with minimal effort. Whether you need assistance with the day-to-day management of your digital campaign(s) or prefer to be the captain of your own ship, we can accommodate.
Get access to bid for premium, viewable ad inventory at scale
Rest assured knowing Mantis takes a strict stance on ensuring high viewability standards. As an advertiser, you'll be given access to a dashboard to track ad viewability metrics including valid impressions, unviewed impressions, unmeasurable impressions, fraudulent clicks and more. Never pay for clicks or impressions from bots or suspicious IPs.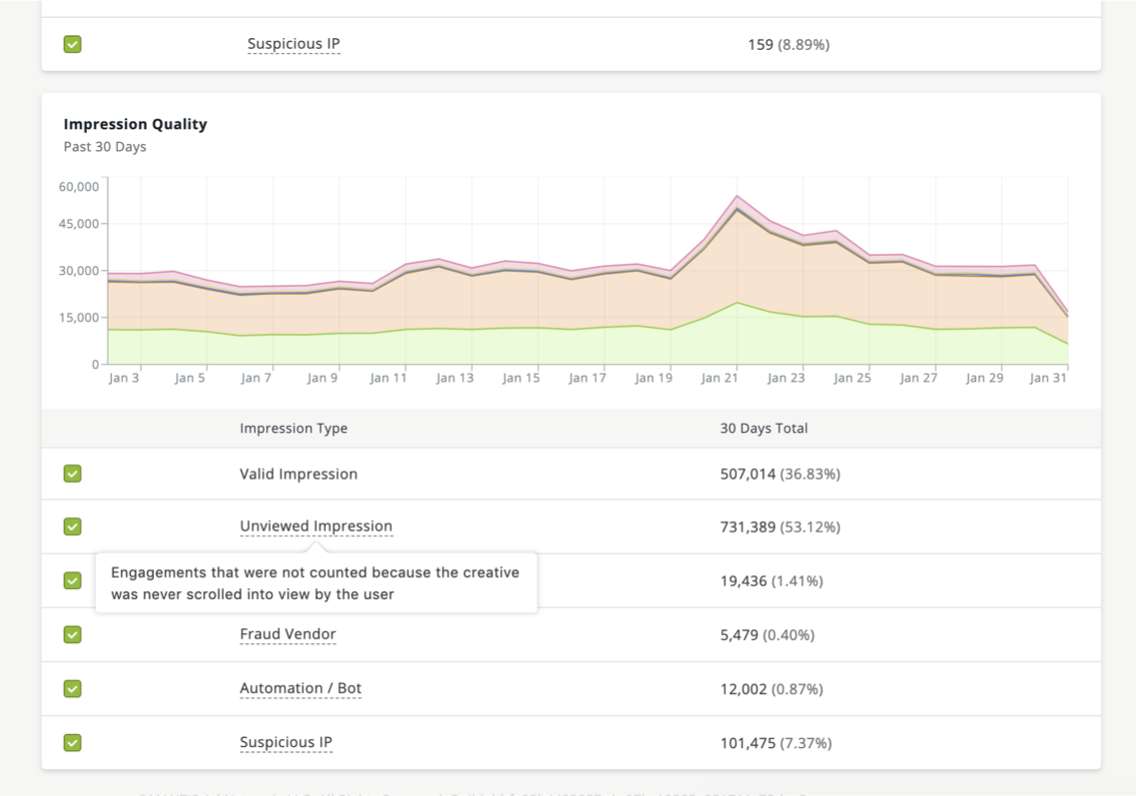 Advertise direct with industry-leading publications
Get instant and direct access to exclusive cannabis-friendly audiences, as well as premium mainstream ad inventory. Advertise within our optimized supply path and avoid paying the standard ad tech tax of 33%.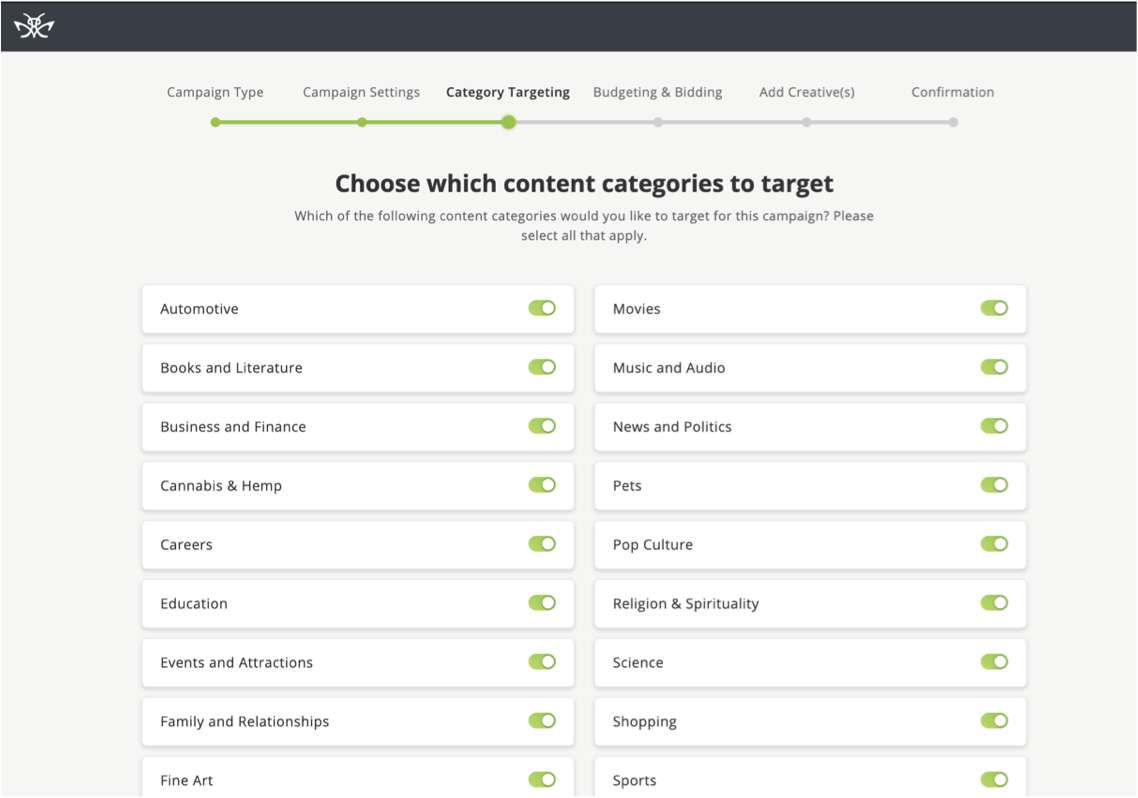 Track performance and place bids in real-time
Participate in a real-time bidding environment. Set a maximum evCPM and eCPC bid, as well as a daily spend limit for your campaign, and Mantis will handle the rest. Track conversions and other performance metrics in real-time with our all-in-one user interface.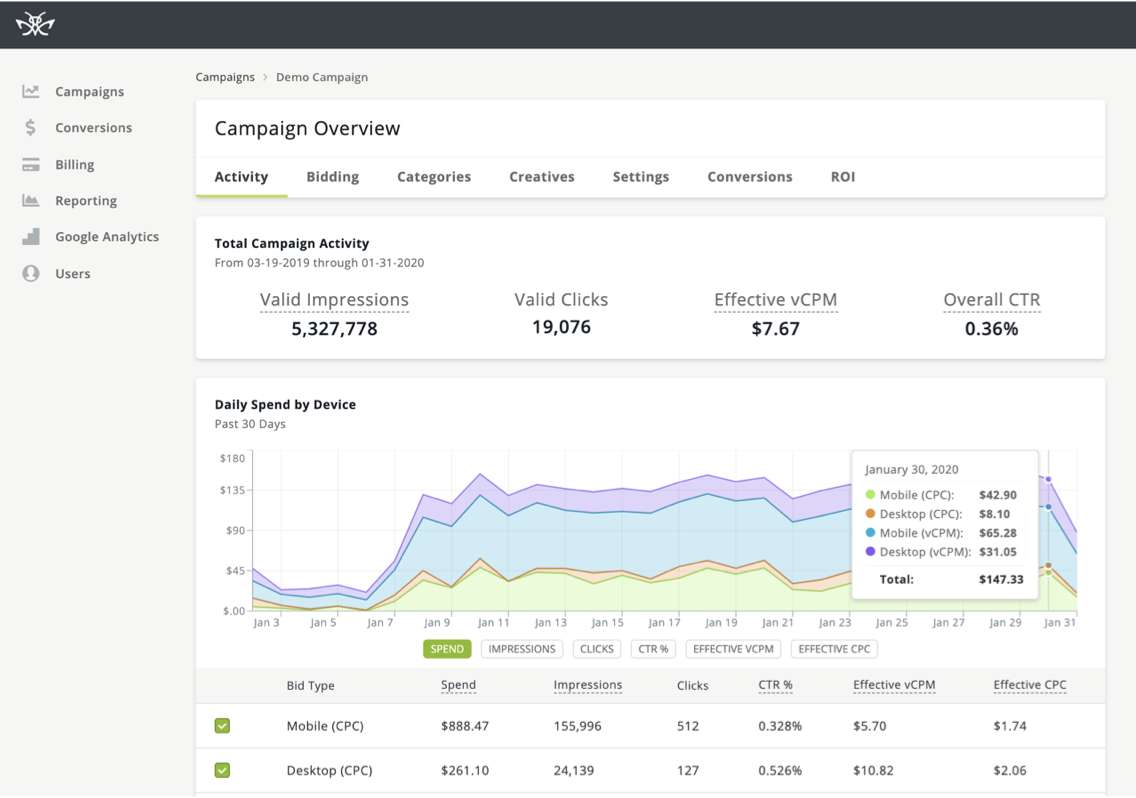 Advanced targeting capabilities
Geographic region
Target by nation, state/region, metro, or ZIP code with a radius.
Audience interest
Segment ads by popular content categories (e.g., Cannabis & Hemp).
Device type
Segment ads to users on desktop, mobile, and/or tablet devices.
Operating system
Target users on Android, Blackberry, iOS, MacOS, Windows, etc...
Time of day
Display ads based on a user's local time or when your business is open.
Retargeted ads
Target people who have already expressed interest in your brand.
Audience extension
Target endemic audiences on mainstream websites.
Custom audiences
Work with us to create and target custom audience segments.
Frequency capping
Control how frequently you want someone to see your ads.
#1 marketing channel for
CBD & Hemp Brands

Cannabis Brands

Industry Events

Horticulture

Lifestyle Companies

Storage Solutions

Technology / Apps

Vaporizers
"The MANTIS ad platform is incredibly user-friendly and allows us to generate valuable traffic to our website which has ultimately led to a high level of conversions."
Greg Gaston
Marketing Director, Greenlane
"MANTIS is outstanding for prospecting in our industry. To this date we have not found any other source for digital ads that can drive more engaged traffic."
Nima Noori
Founder & CEO, Toronto Vaporizer
"Other publications promised us things they did not end up fulfilling. I am happy to report that MANTIS did exactly what they said they would."
Seibo Shen
Founder & CEO, Vapexhale
"MANTIS made increasing our brand awareness a breeze. Their team is extremely friendly and helpful and the ad dashboard is intuitive and easy to use."
Sean Geng
Founder & Former CEO, Smoke Cartel